When Country Women's Association Gungahlin started fundraising with the ACT Container Deposit Scheme in July 2018, Branch Treasurer Melissa Lee says they thought they would maybe raise $10 or $20 each month to put towards baking ingredients.
Just over two years and $5,700 later, container returns have become an integral part of the association's fundraising, allowing them to donate to more than half a dozen local charities.
Melissa says a huge part of the success can be credited to the Grove Retirement Village in Ngunnawal.
"One of our members, Kay, and her husband John are residents at the village," says Melissa. "And they saw the potential to involve the residents in container collection for CWA."
With the support of the retirement village manager and residents' committee, 14 dedicated CDS bins were placed around the village.
"Kay and John spoke at residents' meetings to educate residents on eligible containers and explain how CWA Gungahlin would use the proceeds," says Melissa. "The bins quickly began filling with eligible containers – soon, more volunteers were needed to manage the volumes of containers!"
Other village residents soon got involved, and now there is a group of 10 volunteers who collect, process and deliver the containers to the Mitchell Depot. The group is known as 'The Grove Recycling Team' and have had shirts printed so they are easily identified as they carry out their work in the village.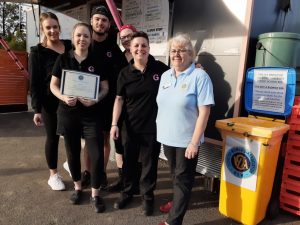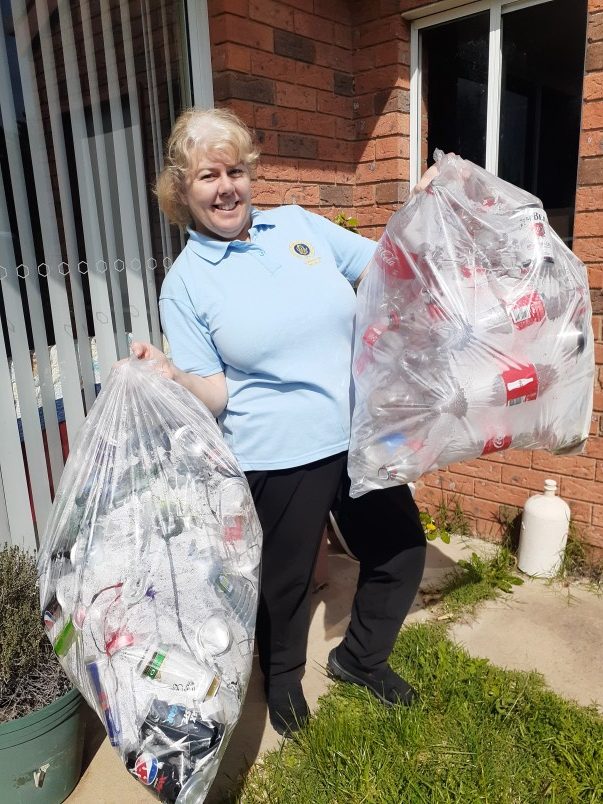 "The team averages $200 in containers a month for CWA and we are so grateful," says Branch President, Roslyn Looyen. "Especially this year as we have not been able to conduct any other of our usual fundraising activities due to covid restrictions."
Other Gungahlin businesses including the G-Spot Food Van and M&I Barber Shop also help out by collecting containers on behalf of CWA.
Funds have gone towards projects including educational grants, medical research and disaster relief, as well as local charities, says Roslyn. "Charities we have supported through our CDS proceeds include Backpack Beds for the Homeless, ACT Cancer Council, Radio 1 RPH, Roundabout Canberra, Alannah & Madeline Foundation, Ronald McDonald House Canberra and Share the Dignity."
Melissa says the ACT CDS is very easy to use. "CWA has an account with the scheme, which means our volunteers can simply bag the containers and print a label at the deposit centre. Funds are then transferred each month directly into the CWA Gungahlin bank account."
"We usually deposit our containers at the Mitchell Depot," she says. "The staff there are very helpful – shout out to Catherine!"