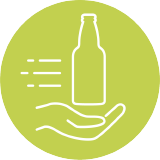 Anglicare Jamison (Permanently closed)
3 Jamison Centre
Macquarie ACT 2614
Get directions
Opening hours
Notes
This return point has permanently closed. We apologise for any inconvenience.
You may drop off your containers in a bag at the nearby Drop and Go point at Vinnies Belconnen. Alternatively, you may try self-service, automated counting at the Belconnen Cash-back Depot. It's quick, convenient and you can pick up a cash refund on the spot.
About this return point

Is a charity store location


Offers electronic refunds or donation
Create a Return-It account

Create a Return-It account and link your bank details to receive electronic payments.
Create a Return-It account